戻る
Today I am going to talk to you about the preparation of vessels.
 In the previous episode, we talked about three ways to prepare a vessel.
They are called shipbuilding, purchasing and chartering.
In this episode, I will go into further details.
I would like to talk about owning and leasing a vessel.
Shipbuilding is to build a new vessel at a shipyard and own it.
Purchasing is to buy an used vessel from Owner and own it.

Leasing is to charter a ship from Owner for a contract period.

We will talk about the breakdown of costs when owning and Leasing a vessel.
Shipbuilding and Purchasing means to own Vessels.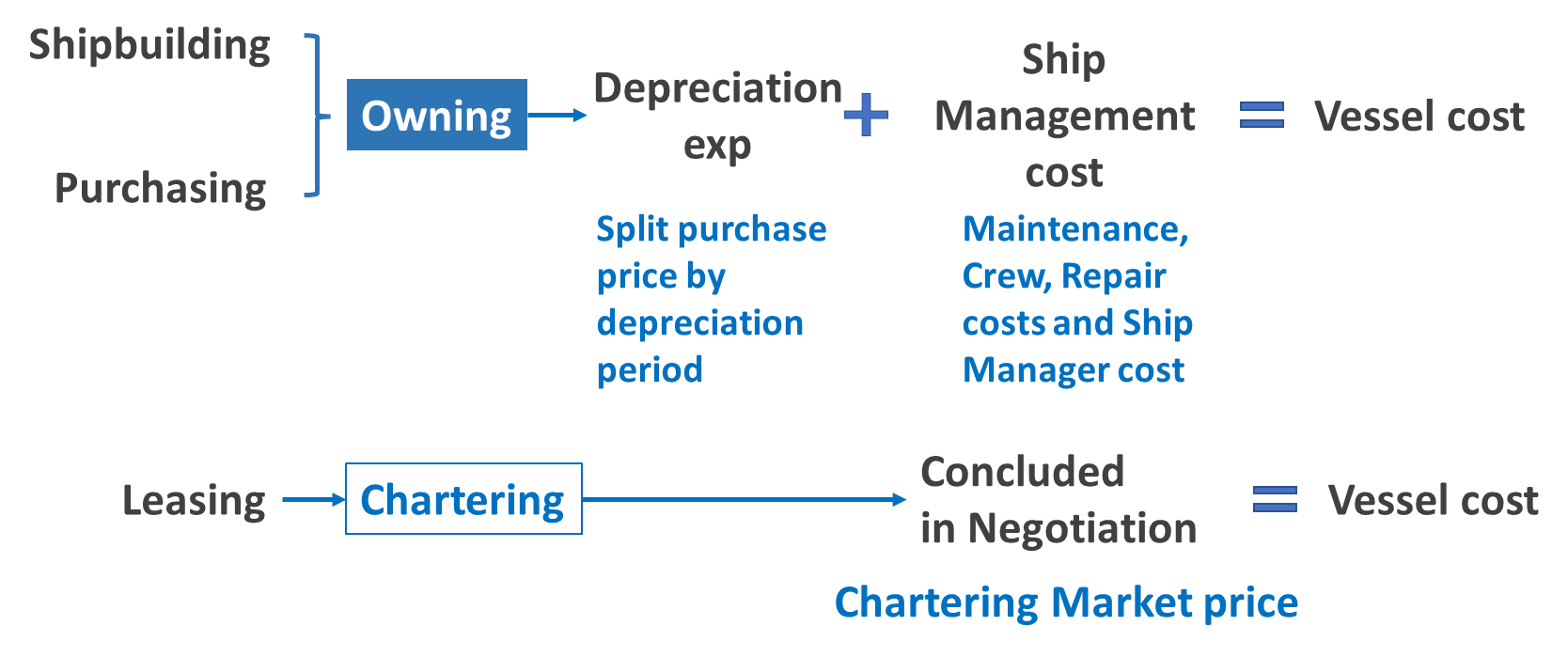 When owned, Vessels are appropriated as a depreciable asset and so the cost of
purchasing Vessels are split by the depreciation period and the depreciation
expenses are calculated.

In addition, ship management costs are needed which consist of maintenance, 
crew, repair and Ship Manager costs. Depreciation expense and
Ship management cost determine Vessel cost.

On the other hand, Leasing is to charter Vessels and its cost will be fixed
during the process of negotiation with Owner. The lease fee is a price index
in Chartering Market and the market price determines Vessel cost.

Today's summary is;

Preparation of Vessels consists of 3 ways, they are shipbuilding, purchasing,
and chartering.Shipbuilding and Purchasing means to own a Vessel. The cost of
an owned vessel is depreciation expense and Ship management costs. 
Leasing means to charter Vessel and the Charter Hire is Market Price in Chartering Market. 
In general, when comparing Vessel cost, Owning is cheaper than Chartering. 
Because the owner's profit is always added to the leasing fee. 

But in terms of risksbetween Owning and Chartering, Chartering is less risky.
Because if cargo volume decreases, the Charterer can return the vessel to Owner flexibly.